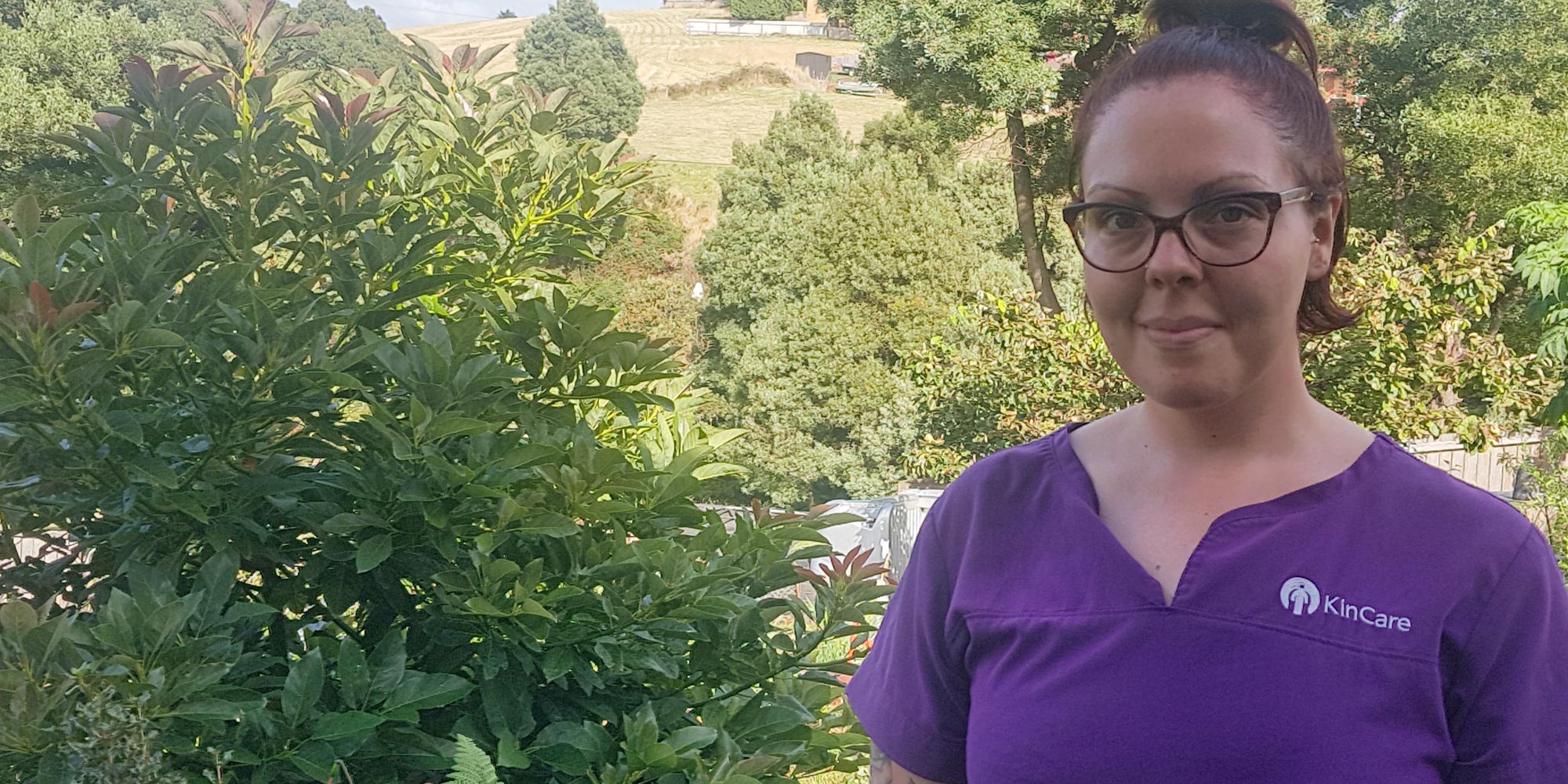 Christina finds beauty in helping others
A career switch from the beauty industry to aged care made perfect sense to our Tasmanian team member, Christina, who has a love of service and helping others.
Christina grew up in a family where helping others was second nature. "Watching my dad do community work and help people is what really made me want to help people too," she says.
"It's always what I've known and what I love. And when you love what you do, you don't work a day in your life!"
Almost six years on from joining KinCare, Christina has embraced her role as a Home Care Worker, learning from her co-workers and taking on additional responsibilities and job roles. The variety she experiences every day is one of the reasons she loves her job.
"No day is the same. I love being able to meet new people and hear their stories. It's good for the soul and it keeps me open-minded. I find it really satisfying to meet people with different personalities and different backgrounds," she explains.
Christina says taking the time to listen to her Customers is important for her and makes a big difference to the people she supports.
"There's nothing more valuable than effective communication. What I really try to do at all times is to really listen to my Customers. I don't care if it takes me an extra five or ten minutes. I stop what I'm doing and listen. That makes my Customers feel like they are being understood, listened to and respected," she says.
Career Opportunities at KinCare
If you've been looking for a career that will make a difference to people's lives, working at KinCare could be the perfect option for you. With a huge variety of jobs available, there's never been a better time to move towards a fulfilling career in home care.
On her journey with KinCare, Christina feels lucky to have been given opportunities to expand her responsibilities and skills, including taking on the Assessor role and covering for her Team Leader.
"Introducing me to the reassessment process gave me that extra chance to learn about administration," Christina explains. "Then I was supported to be Acting Team Leader for two weeks. I had some training days with my Team Leader and the advice she gave really stuck with me. She's been very supportive and very helpful."
While Christina enjoyed the extra responsibilities, being there for her Customers is what she finds most satisfying and enjoyable.
"It's a really rewarding industry to be in. It's the little things that make it special. I had one lady give me an award. She wrote on a piece of paper: 'To Christina, for being the best shopper, and so much more, in Tasmania'. That made my heart full and made me think I must be doing something right."
Christina says getting positive feedback from Customers is always nice. "It makes me feel like I'm on the right path and that I'm doing my job effectively. It puts me on cloud nine."
Being part of a team of Home Care Workers who work together to support and care for Customers has made KinCare a special place to work for Christina. She loves being able to hear stories and experiences from her colleagues about how they deal with situations and scenarios. KinCare's Home Care Workers are part of a whole team supporting Customers so sharing knowledge is important. For Christina, it's also inspiring. "I love seeing strong women in good roles, doing good things," she says.
Although she has a wedding to plan in 2021, Christina says she won't be slowing down at KinCare.
"I just love every aspect of working for KinCare because it gives me the opportunity to do what I love."