Seven years after a cycling accident left him a quadriplegic, Ludvig Kerec was back in the saddle to join his son, Andrew as he finished a five and a half thousand kilometre ride for SpineCare Australia in honour of his dad. It was a moment Lud will cherish forever.
In 2010, Lud's life and that of his family changed irreversibly. While on a light training ride to prepare for an Ironman Triathlon, Lud, who was 60 at the time, was involved in a cycling accident and suffered a severe spinal cord injury. Damage to his C5/C6 caused him to lose close to all function below his chest, including his hands and chest muscles.
Determination, strength and unwavering support from his family in the years since has seen Lud regain his physical and mental health – but it hasn't been easy.
"There were so many barriers we had to deal with that just didn't need to be there," said his son Andrew, who, alongside Lud's wife Margaret, was one of his primary carers during the year following Lud's release after seven months in hospital. "There is a lack of accessible housing and a lack of appropriate care services, even for people who are willing to pay."
When Lud left hospital to continue his recovery at home, he and Margaret were lucky to be able to temporarily move in with Andrew and his wife Jodie, who made modifications to the plans for their new home which was under construction at the time.
Eventually, Lud and Margaret moved into their purpose-built accessible home, but they then faced difficulties finding suitable in-home care. Lud not only needs assistance getting up and showered in the morning, he also requires bladder and bowel care – a service that was scarcely available in Canberra at that time. "Mum and I took turns caring for dad, and we were willing to do it," said Andrew, "but, boy, did I need a sense of humour at times to get through it!"
Five years ago, the Kerecs found KinCare and a team of disability support workers who were able to meet Lud's high-support needs. It has made all the difference to the family, allowing Andrew and Margaret to resume their roles as son and wife, rather than carers, and Lud to focus on continuing to regain his strength.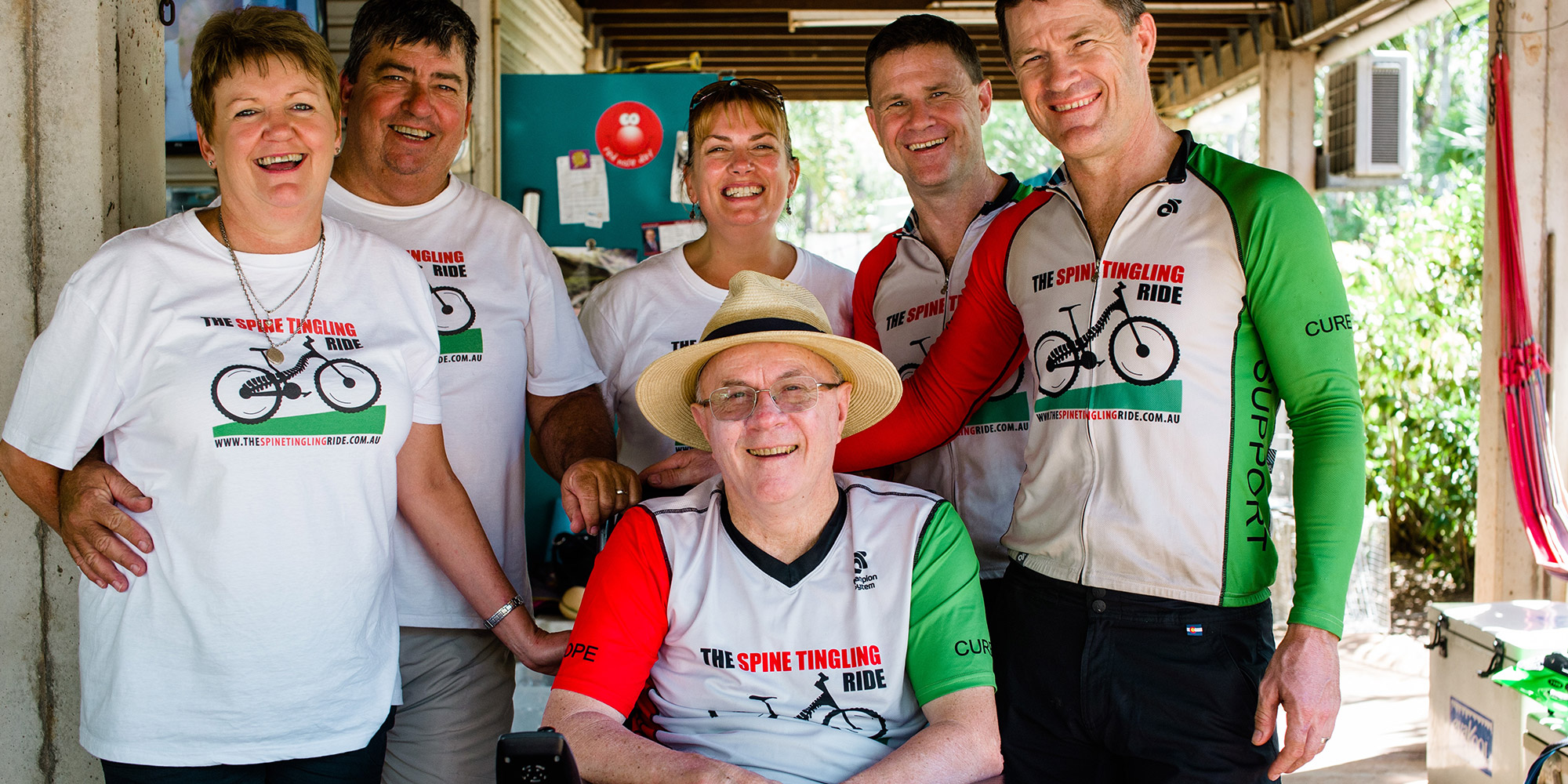 Support from KinCare has eased a lot of pressure for everyone in the family, and helped Lud have goals to work towards with his family.
One of those goals has been to help Andrew plan and organise The Spine Tingling Ride, an ambitious fundraising mountain bike ride from Canberra to Humpty Doo that Andrew completed in early 2017. A former cartographer, Lud helped Andrew plan the 5,450km mostly off-road route, while physically preparing himself to join Andrew at points in the ride. Having made remarkable physical gains over the past few years, Lud was able to start and finish the ride alongside Andrew using a hand-cycle. With his other son, Malcolm also by their side, the Kerec men rode into Humpty Doo together to complete the epic journey and raise funds and awareness for spinal cord injury.
It was a great achievement for everyone involved and a special moment for the close-knit family. With months of planning and training now behind them, the family is looking forward to a less strenuous holiday together to the Kimberly in Lud and Margaret's new accessible 4WD. It seems there's no stopping Lud now!
Support to help you achieve your goals
We provide NDIS, state government and privately-funded care to Australians with disability. We will work with you to ensure the services and supports you choose are tailored to your individual needs. Visit our disability support page to find out more.